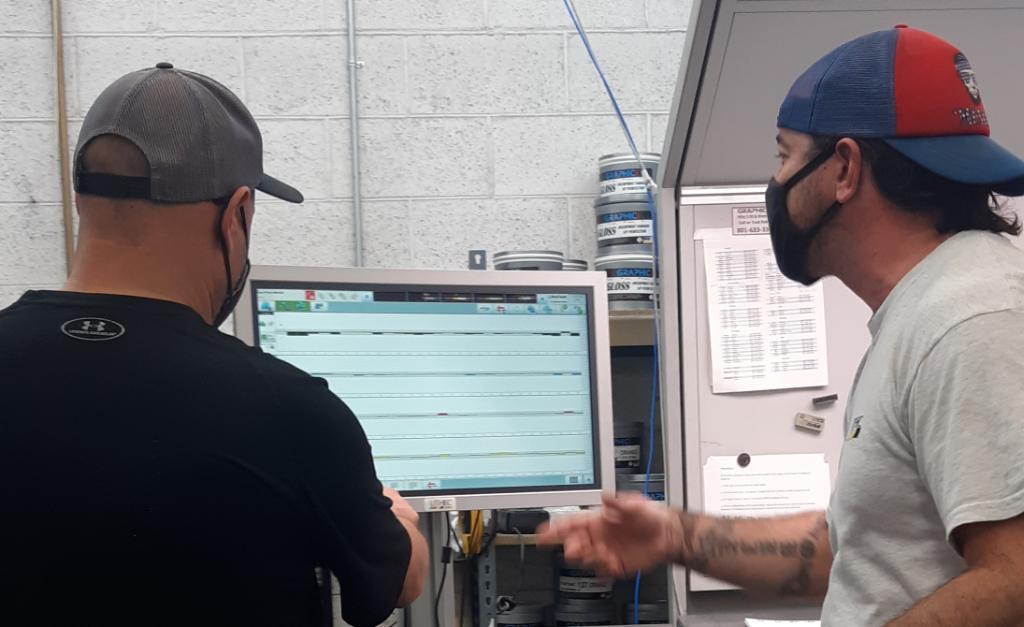 WEST VALLEY CITY, UTAH — December 2, 2020 – Sun Print Solutions is a commercial printing company with a diverse range of capabilities, including packaging, commercial, and digital print. After coming under new ownership in 2019, Sun Print began seeking to make improvements throughout all departments of the company. As part of this ongoing effort, Sun Print Solutions installed Lithec's LithoFlash Inline Color Control system on their Komori LS 640 press in May. 
Stefan McTee, Chief Operations Officer at Sun Print Solutions, explains why they chose LithoFlash as an upgrade to their 2006 Komori press. "We were looking to take our older press, make it modern, and give our pressmen better tools to produce great work. When we saw the LithoFlash system at the Print '19 event in Chicago we decided to stop and see what this technology was all about. All the new presses have this kind of technology, but they're three to five million dollars. LithoFlash, for a much smaller investment, monitors every sheet."
Servicing a wide variety of folding carton markets throughout Utah, Sun Print Solutions viewed LithoFlash's guarantee of greater color consistency as its most valuable advantage.  The main function of their Komori 40" plus coater printer is producing packaging products, placing consistent color at high priority for the press. "Customers definitely want the boxes sitting next to each other on the shelf to look exactly the same, and the next time they order they want it to look to exactly the same again." McTee explains. "Color consistency on the shelf is super important to customers. LithoFlash keeps our color dialed in tighter than we used to."

LithoFlash eliminates the need to manually measure color bars at the press console by reading the color bar and making ink key adjustments as the sheet leaves the last printing unit, running live. "Before LithoFlash, we had the scanner system that comes with the older era of press. We would pull a sheet, scan it, wait for the computer to analyze it, look at it, and decide if we want to do it or not," McTee states. "As a former pressman myself, I know this device is keeping a more accurate eye on the sheets. It's watching a lot closer and more often than a pressman can." Reaching accurate color sooner also results in a savings in make ready time and waste, an unexpected benefit to McTee. "I was skeptical, but it turns out that it really does save you make ready sheets, additives, and time.
We are saving 100 to 200 sheets per make ready, and our packaging department has definitely noticed more consistent color back.
It's probably saved us one or two reworks. A pressman might catch an issue early watching the old way, but LithoFlash starts alerting you right away." The quality and efficiency brought about by the LithoFlash solution has been a welcome change for all at Sun Print Solutions. "My pressmen were resistant to it at first because it was such new technology," McTee comments, "But once they saw what it does for them and how it makes their lives less complicated, they've been extremely pleased with the device."
ABOUT LITHEC
Lithec is a global leader of inline color control and inspection systems for the graphic communications industry. Engineered and manufactured in Miesbach, Germany, Lithec systems are installed in Heidelberg, KBA, Komori, Manroland, and RMGT offset presses and used in more than 1,500 printing plants around the world. Offering a complete sales and service organization, Lithec USA, based in Atlanta, GA, is the authorized master distributor of Lithec solutions in all of the Americas.