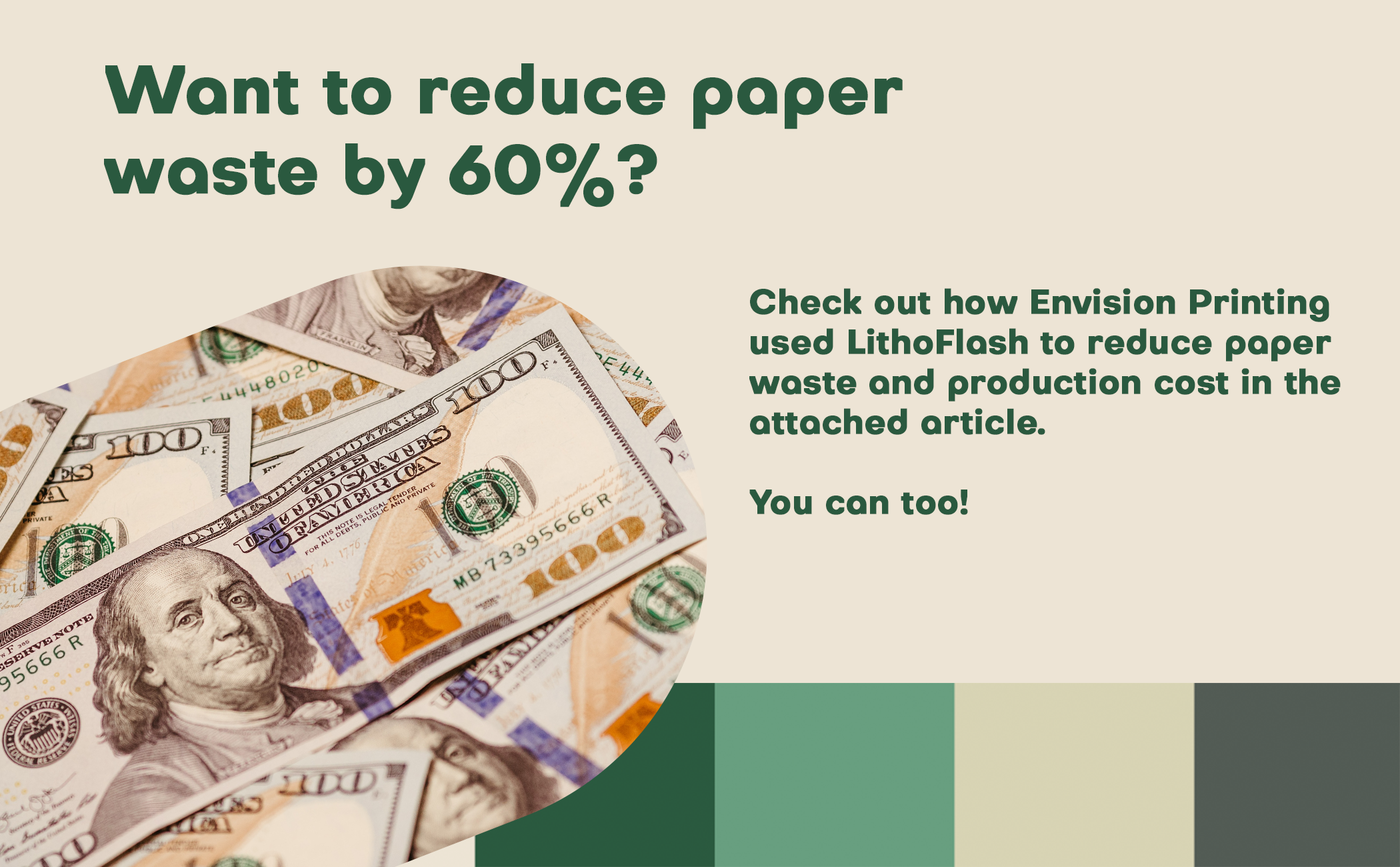 Controlling and inspecting color inline helps Envision Printing
to run faster and conserve press sheets
WOODSTOCK, GA — May 24, 2023 — Lithec, a global leader of inline color control and inspection systems for the graphic communications industry, retrofitted a LithoFlash (LF) unit for Envision Printing, LLC. in the fall of 2022. In less than 6 months, the commercial printer is consistently seeing makeready times and paper usage shrink on its vintage, five-color Heidelberg Speedmaster CD 74 press.
Envision mostly reproduces postcards on the 29-inch offset press, which has amassed some 400 million impressions throughout 20 years of operation in the Marietta, GA facility. "We print between 6 million and 8 million postcards a month," noted Rob Howard, Plant Manager, Envision Printing. That high volume level burns through a lot of lithographic printing plates – nearly 1,000 monthly, Howard reports. To enhance productivity, his press crews try to squeeze in as many jobs as possible.
Founded in 1996, Envision Printing, occupies an 18,000 square foot facility, with 25 employees working 2 shifts, five days per week. "We go fast," states Howard. "Sheets come off the press and move to the cutter." The vast majority of gang-run postcards feature similar ink coverage and do not require PMS color matching or press proofs. "But the quality needs to be there, and it is."
Field upgrading the Heidelberg press with LithoFlash has created production efficiencies that the LF facilitates for the firm. Lithec's inline color-control speeds makereadies between jobs while reducing paper waste. "Once everything is 'finger-printed' correctly to the press and the platesetter's ink keys are set right, we start rolling and get up to color in around 100 sheets now, down from 300," reported Howard. With up to 60 plate changes daily, the savings add up quickly.
"With the LithoFlash, there's no stopping and starting for color," Howard pointed out. Envision's press operators have taken notice. "They don't need a densitometer to scan the sheet," he explained. "They just hit a button, then stop to pull one sheet and check for registration. Maybe they put in a flag after 125 sheets or so." Lithec's fully automated, inline technology features an intuitive interface that makes it easier to train press operators.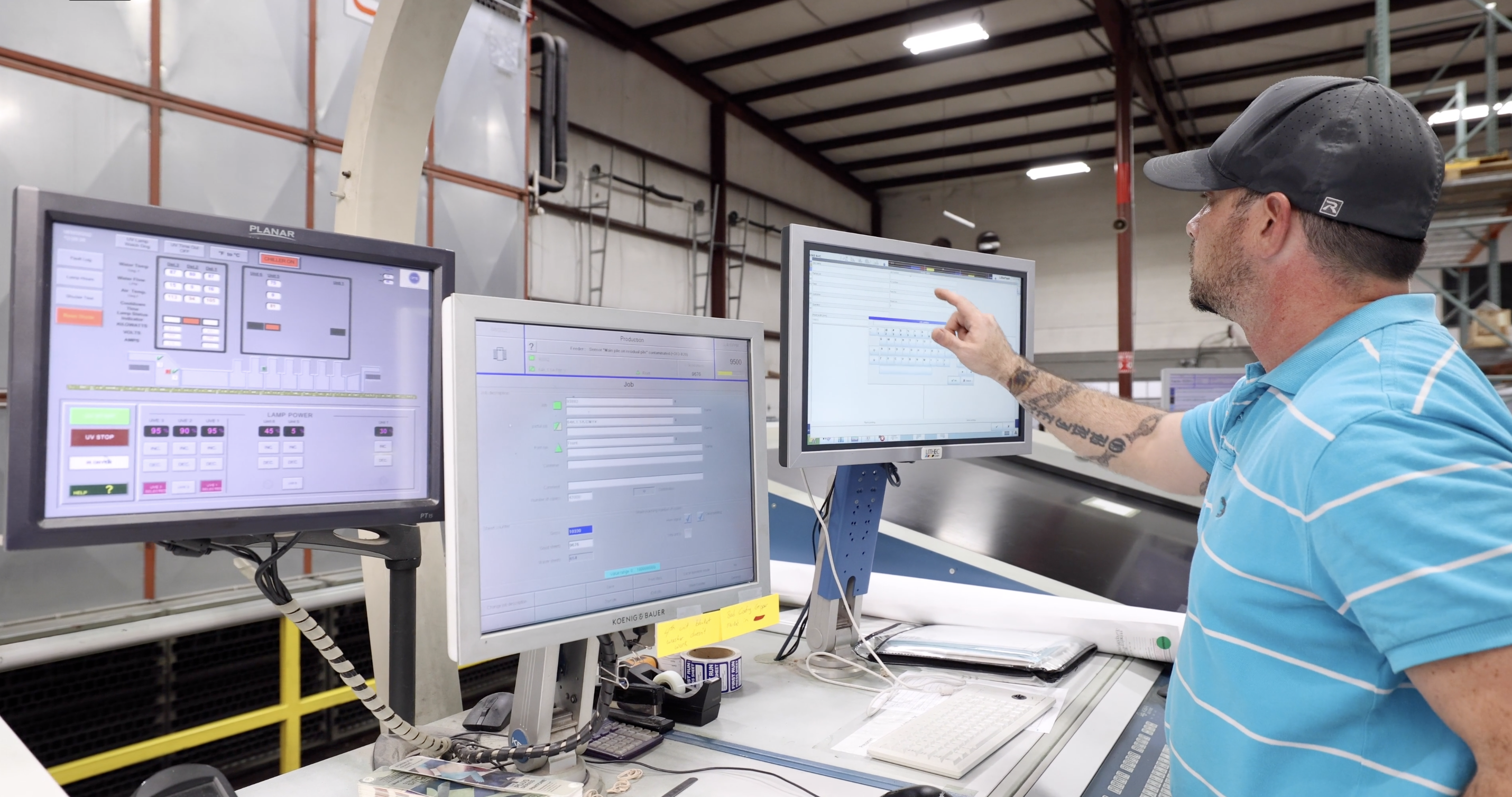 Advantages of a field upgrade
"When we first discussed this project, it was hard to imagine putting LithoFlash on a machine with this many impressions," states Clyde Tillman, President, Lithec USA. "Many people would say that a 2002 press with over 417 million impressions is close to end of life. With LithoFlash this is just not true. LithoFlash has breathed new life into this older press, and it is now competitive with brand new presses. This is a huge advantage of the field upgrade. If Envision decides to replace this press with a new one in the next few years, we will simply move the LithoFlash to the new machine. Turns out that putting LithoFlash on an older, high impression machine is a great way to improve production and be more competitive."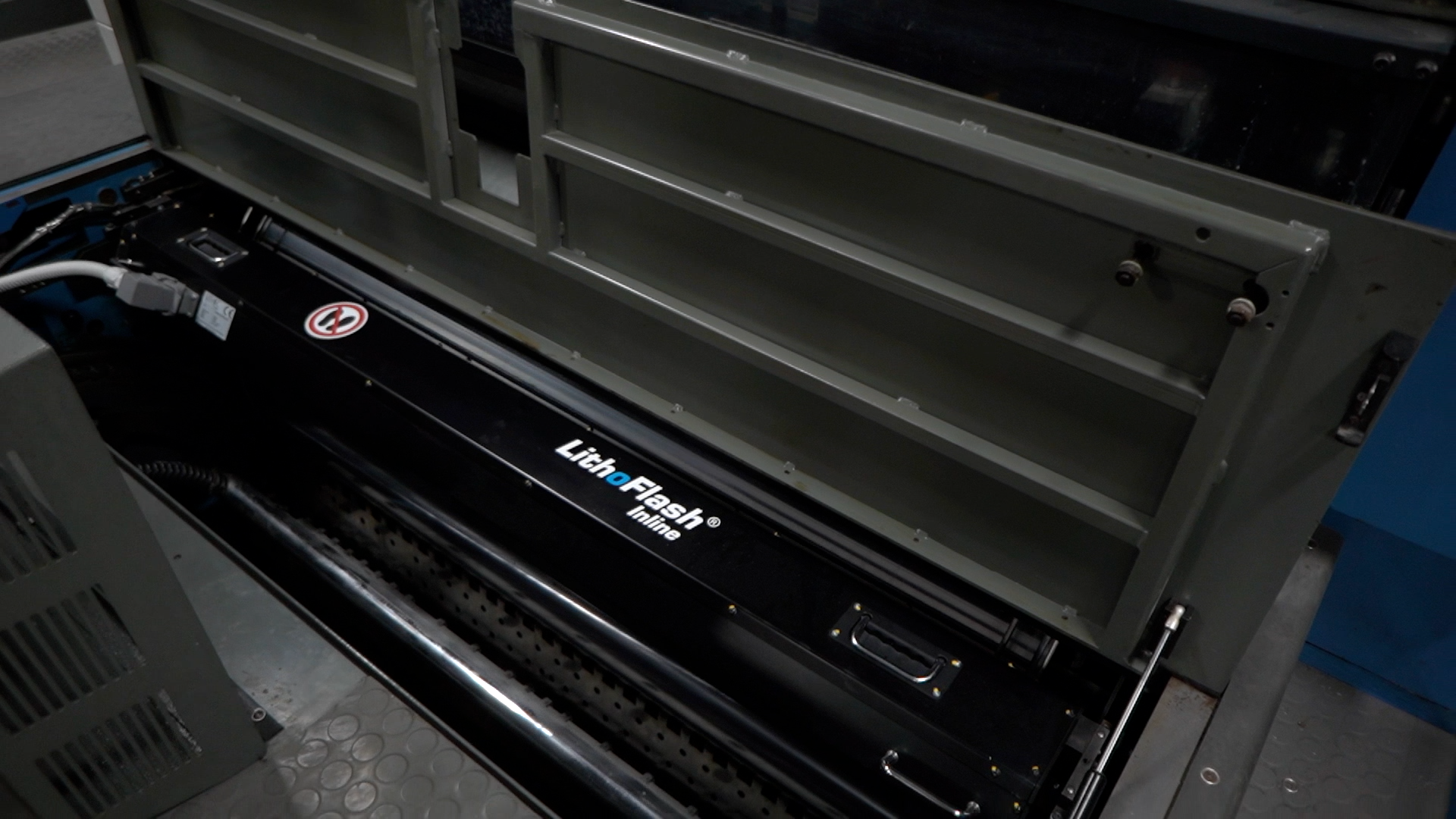 Pleasant Surprises
Lithec LithoFlash eliminates the need to manually measure color bars at the press console by reading color bars and making ink-key adjustments as sheets leave the last printing unit, running live. One unexpected benefit for Envision is the ability to "move" color while checking. "Say there's a red unit problem," Howard illustrates. "We can control the other three colors inline while seeing what's wrong with the magenta. It could be a water imbalance issue or an ink-key motor that's bad." Envision's press operators were unsure whether such control would be possible when using LithoFlash. The bottom line is, even in these instances, they are pulling far fewer sheets than in the past.
Another surprise has been total ink-zone controls. "If an ink-key motor goes bad my guys can keep running," observes Howard. "This is something we didn't realize we would be able to do with the Lithec technology. LithoFlash skips the bad key and averages between the two keys next to the bad one."
A field upgrade with LithoFlash is about half the price of comparable OEM solutions. In addition to Heidelberg's printing equipment, LithoFlash inline color-control/inspection also retrofits on presses engineered and built by Komori, manroland, Mitsubishi, RMGT (RYOBI) as well as other manufacturers and is available on all new offset presses.
ABOUT LITHEC

Lithec is a global leader of inline color control and inspection systems for the graphic communications industry. Engineered and manufactured in Miesbach, Germany, Lithec systems are installed in Heidelberg, KBA, Komori, Manroland, and RMGT offset presses and used in more than 1,500 commercial, packaging, web and metal print plants around the world. Offering a complete sales and service organization, Lithec USA, based in Atlanta, GA, is the authorized master distributor of Lithec solutions in all of the Americas. For more information, visit https://lithecusa.com
Fill out the form to be contacted if you have any questions at all about LithoFlash!