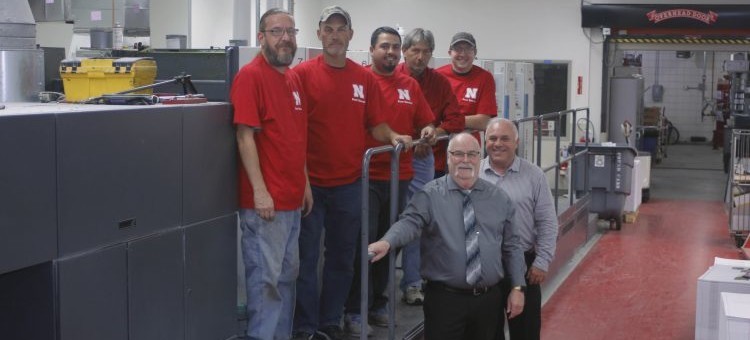 LINCOLN, NE — March 5, 2020 — As the ninth largest university in-plant in the United States, the University of Nebraska-Lincoln (UNL) made a significant investment in the offset print side of their printing operations. Reversing a trend among higher education in-plants to print smaller runs on digital devices, UNL recently purchased a six-color, 40˝ Man Roland 706 PLV Highprint press with an aqueous coater. A significant addition to this offset press was including the LithoFlash inline color control system from Lithec.
"The LithoFlash system allows us to maintain the G7 standards in our offset print operations," states John Yerger, director of Print, Copy, Merchandising, Mail & Distribution Services at UNL. "Applying G7 to both our offset and our digital presses has been crucial for giving customers confidence that their colors will always be consistent and accurate. This has actually given us more business." The LithoFlash system measures and controls the densities of process inks by scanning color bars on every sheet and adjusting the press every sixth sheet. "This is lowering production costs and improving productivity," concludes Yerger.
"WE DON'T HAVE TO WORRY ABOUT MATCHING, WE KNOW WE WILL CONSISTENTLY HIT OUR COLOR TARGETS."
There are many benefits of implementing G7 across their offset and digital printing operations. "We had a recent job where we pre-printed one part of a booklet offset on one press and the crossover signature on another press, they were a dead on match," continues Yerger. "We have cross gutter bleeds on many of these jobs, and it's critical that the colors match. With LithoFlash inline color control, we don't have to worry about matching, we know we will consistently hit our color targets." 
"For the most part, our offset is probably 60% of our business compared to 40% being in the digital side," states Dave Niebrugge, Pressroom Manager, UNL. "The majority of our work is for the university. We also do some work for the state of Nebraska. We have stayed flexible to address the needs of the many internal customers we have within the university. The admissions department and the athletic programs need large quantities of recruitment brochures, media guides and sports programs. Caring for the printing needs of these departments at UNL require us to address longer print runs as well as short-run projects."
From left: Dave Niebrugge, Jesus Garcia, Chris Day, and Mike Chaplin review a press sheet from the new press.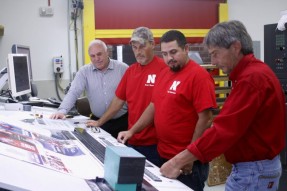 THE ECONOMICS OF PRINT MANUFACTURING ARE DRIVING SHORTER RUN JOBS BACK TO OFFSET.
The economics of print manufacturing are driving shorter run jobs back to offset. The ability to have shorter make-ready moves the tipping point toward offset for what, in the past, have been considered short run jobs. "With the help of the Lithec inline color control system, we don't need to pull press sheets to measure the color bar," states Chris Day, Senior Pressman at UNL. "This helps us get to color within 150 to 200 sheets. Once we get to color quickly, the system maintains it and there is not a whole lot of color variation through the run."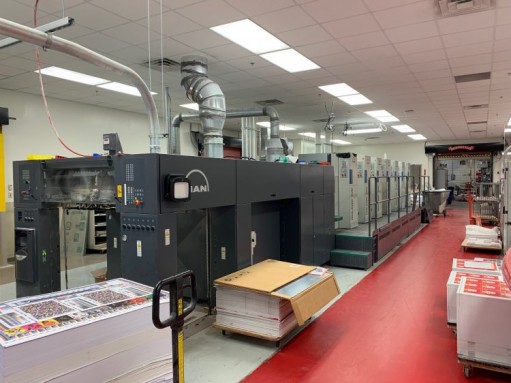 UNL's new six-color, 40˝ Manroland 706 PLV HiPrint perfecter press.
By increasing their offset print capabilities, Yerger observes that they have reduced how much the university is spending on outside printing, Yerger expects to save UNL about $120,000 a year in print procurement costs plus another $75,000 in reduced production costs — numbers that will increase as the in-plant takes on additional work. The offset press has been so busy in the last six months that the in-plant had to add four additional employees, bringing its staff count up to 49, with three additional new hires in the plans. "We can't keep up with it," states Yerger. "It's doubling our press capacity right off the bat."
"Color management is more critical than ever before across the entire print industry," says Clyde Tillman, President, Lithec USA. "We are pleased to see higher education in-plants using Lithec technology to create efficiencies in their print manufacturing. In-plants won't need to sacrifice speed or quality as they leverage offset  in their hybrid print environments."
---
ABOUT LITHEC
Lithec is a global leader of inline color control and inspection systems for the graphic communications industry. Engineered and manufactured in Munich, Germany, Lithec inline color control systems are installed in Heidelberg, KBA, Komori, manroland, and RMGT offset presses and used in more than 1,500 printing plants around the world. Offering a complete sales and service organization, Lithec USA, based in Atlanta, GA, is the authorized master distributor of Lithec solutions in all of the Americas.