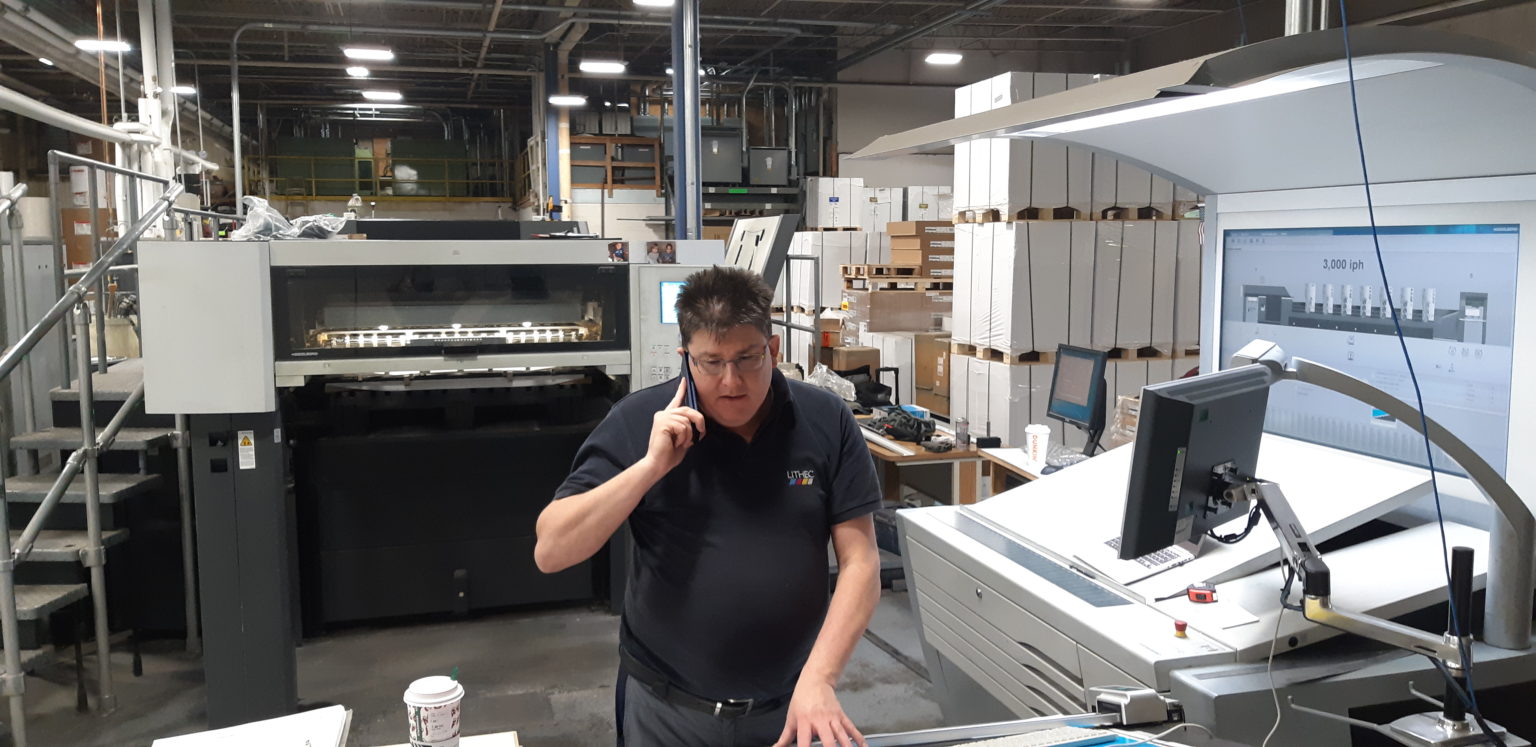 ESSEX, VT – September 28, 2020 – Catamount Color is a full service printer located in Essex, VT that has been servicing the Northeast for over 40 years. As part of an ongoing effort to increase efficiency while upgrading their bindery, Catamount Color recently installed the LithoFlash Inline Color Control technology on their Heidelberg XL 105 6-color press. 
"Our flexibility is what we do best," states John Carp, Vice President of Operations at Catamount Color. This flexibility is supported by a wide range of capabilities, including digital, wide format and commercial offset production as well as mailing. Specializing in sheetfed printing with 80% of their revenue driven by offset, the majority of their offset jobs run through their Heidelberg XL 105 6-color and 8-color presses. The need for an inline solution arose after an older scanning system previously installed on Catamount's 40 inch 6-color press gave out. Since then, the installation of Lithec's LithoFlash Inline Color Control system has brought about numerous benefits. 
Savings in time and make-ready waste are among many advantages seen with the LithoFlash technology. "We reach sellable sheets within about 300 makereadies. With our older system, it was about 450 or 500 makereadies," states Carp. The clear difference in user-friendliness and efficiency has been a welcome change to all working in the pressroom. "The old system was cumbersome and very slow. We're more efficient with what we have now, and the pressmen love it. It's very easy to use," says Carp. 
LithoFlash's guarantee of increased color consistency was also of vital importance to Catamount. "We have accounts that are very color critical," says Carp. "We were reprinting jobs due to inconsistency in color since we were dependent on the pressman's eye." The LithoFlash solution allows any inconsistencies to be caught and corrected earlier. "We put the LithoFlash system on and things cleaned right up for us. We're running to the proper densities and no longer relying on different pressmans' view of color. They ran the target densities, and that made it a lot more efficient," Carp explains. 
The choice of LithoFlash came after much research from Catamount. Exploring the inpress control options available, Carp explains, "We researched Heidelberg's option of replacement as well as Lithec's." Having already experienced Heidelberg's Inpress control that came retrofitted on their XL105 8-color press, Carp stated, "They're very, very comparable. The user friendliness, the color control, everything is very similar between the two different setups. Lithec's option price-wise made the most sense." 
Catamount Color's installation of Lithec's LithoFlash solution is a testament to their commitment to investing in new technology. Carp states, "We're firm believers in investing in technology. It's been proven that the benefits in investing are there, whether it's in the press room, the bindery or prepress."
ABOUT LITHEC
Lithec is a global leader of inline color control and inspection systems for the graphic communications industry. Engineered and manufactured in Miesbach, Germany, Lithec systems are installed in Heidelberg, KBA, Komori, Manroland, and RMGT offset presses and used in more than 1,500 printing plants around the world. Offering a complete sales and service organization, Lithec USA, based in Atlanta, GA, is the authorized master distributor of Lithec solutions in all of the Americas. For more information, visit https://lithecusa.com